5. BUDJAM


B U J A M
The Anti Jamming Device for Tibet(purely fictional)



The lifestyle of
Tibetan
people is wrapped up in their
Buddhist
belief systems. They are also a very communal people; hospitality is deeply ingrained in their culture and they celebrate many religious events with large scale festivals that the whole community engages in. Additionally, many Tibetan people have stuck to their nomadic roots and still move across the plateaus of Tibet in tight knit communities. Because of these features, while Hofstede provides no official IDV value to Tibet we believe that the Tibetan culture as a whole has a low IDV. Additionally, Tibetans seem to have a very low UAI index. While many Tibetans live a simple rural existence and Tibetan monks live ascetic lives, they have proven very willing to adopt new technologies into their own cultural understanding. Most monks in Tibet's monasteries who were born after 1980 use mobile devices to keep in touch with family members, and farmers who used to decorate yaks with bright rags and ropes for the spring ploughing ceremony now decorate tractors instead. Therefore, when approaching our product we wanted to take into account their community-centric characteristics and respect their religious identity. We were not worried, though, about the rejection of some foreign technology.
The problem we wanted to address with our product was the
censorship
of Tibetan media by China. China governs the majority of Tibet as an autonomous region, and under their governance television, radio, printed media and the internet are subject to strict monitoring and censorship. Additionally, the Chinese regime uses propaganda bulletins delivered in the same media to threaten the population. We wanted to provide the Tibetan people with a tool to access the censored radio media, specifically the radio stations Radio Free Asia and Voice of Tibet, which provide news on Tibetan life, culture, events, and issues both inside Tibet and in the global Tibetan exile community. Importantly, they also air the Dalai Lama's latest public speeches in serialised form. The Dalai Lama is the exiled head of Tibetan Buddhism who has himself said that
"Censorship ... is the source of the problem"
in the conflict between China and Tibet. Our group therefore decided to provide the Tibetan people with an outlet to their own cultural media and spiritual leader by giving them a device that both reflects their religious-centered way of life and can be easily adapted into their culture: the Buddhajammer. An anti jamming device that is activated through gestures rooted in buddhist practice that can be shared by whole communities. The Buddhajammer allows for a group to come together and listen to culturally relevant news or media, working within both the Tibetan understanding of community and their willingness to adopt technologies into their lifestyle.
(Inventory of Features) Home BUJAM:
Religious household item. Houses the antijammer. (Chosen because its common and doesn't draw attention to by Chinese patrol).
Anti Jammer:
Receiver, picks messages up.
Radio:
When BuddhaJamer on you will be able to intercepts messages.
Singing Bowl with Gong:
Used to ring the bowl which will turn on jammer.Batteries: Lithium Cells for the smaller pocket BuddahJammer get power.
Pocket BUJAM switch:
To turn off and on there is a switch on bottom.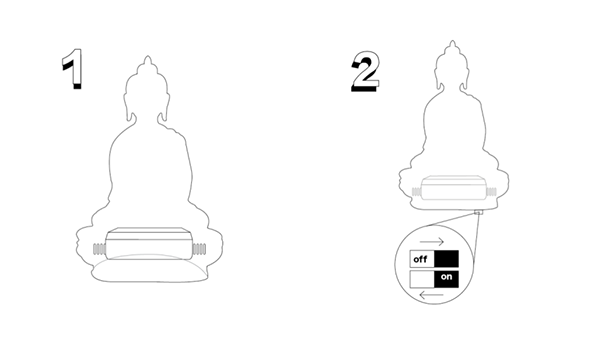 (Function Map)

The Buddha form reflects the religion of the vast majority of Tibetan people. Religious customs are apart of everyday life. Chanting mantras and prostrating in a local square to walking the 'kora' around a temple or sacred site. Tibetan Buddhism is piece of Tibetan identity China is also trying to weaken. China's Military attends religious events to restrict Monks and Nuns from their practice. This religious item is found in many homes, big or small.
Antijammers are inexpensive simple devices. Anti-jamming devices are able to pick up interference in the GSM frequency, within a specific delimited area. Jammers work by overpowering the target signal with their own higher powered signal at the same frequency. They are small enough to fit in your pocket which is why we designed one for the home a mobile size.

The radio is used to receive the messages. China censors all communication because it has been deemed too dangerous for public consumption. For example, if you write about human rights abuses with hopes of disturbing it to the public, there will be serious consequences. Radio's are also inexpensive and come in many sizes.

Gongs come with singing bowls. Singing bowls produce sounds which invoke a deep state of relaxation which naturally assists one in entering into meditation, the ultimate goal being enlightenment.They are a quintessential aid to meditation, and can be found on private Buddhist altars, and in temples, monasteries and meditation halls throughout the world.
Batteries are used because they are portable and if one were to use the BuddhaJammer you would not need an outlet as a power source.


Prototype was made with a photogrammetry of Buddha from Java, resin printed with a Formlabs Form 2 SLA printer, circuitry consists of the ADAFruit Huzzah Feather ESP8266, Microphone Amplifier and Buzzer sensors.